UK based Design and Manufacture

All our chambers are designed and manufactured at our facilities in Gloucestershire, UK.
3D CAD Design

We use 3D CAD to provide detailed design drawings showing how a custom chamber would look and work in practice, allowing customers to tweak any parts to suit their needs prior to manufacture.
Tailored to meet your Specification

We discuss in detail all the requirements for your specification ensuring your custom chamber will be best solution.
Robust Construction for Long Life

All Sharetree chambers are manufactured at our site in the UK, using high quality materials such as 304 or 316 stainless steel. We understand the importance of structural strength in ensuring the chambers will last for decades in even the roughest factory environments.
Wide Temperature and Humidity Ranges

Temperature ranges of +180°C to either -40°C or -70°C are available and even +250°C with our Evaporator Protection feature. Liquid Nitrogen chambers are available with ranges up to +250°C to -100°C. Mechanically cooled chambers can be fitted with humidity covering all areas (10% to 98%RH, 10 to 100°C)
Extensive Range of Options

We have already designed a host of options from past custom chambers and can offer these at competitive prices to be added to your custom chamber, if required.
SIMPLEtouch
Touch Screen Programmer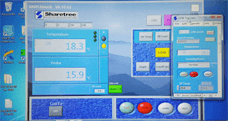 Easy set-up and monitoring of chamber conditions, simplifies programming of complex cycles… read more