We make all types and are a leading provider of custom chambers for industries in the UK and globally.
Wide range of test chambers:

Environmental for temperature and humidity testing,
AGREE for combined thermal and vibration testing,
Thermal for temperature cycling,

Sizes from bench top and reach-in to walk-in rooms and air-conditioning units (ACUs).
Range covers environmental test applications incl: Climatic testing, Process control, Stress screen, HALT/HASS, Burn-in and many others.
If you have a custom requirement we can fulfil it – in-house design, engineering and manufacturing focus ensure a perfect solution for your application, whether it's overcoming difficult test specifications, controlled rotation of products under test or combining multiple test parameters together in one chamber such as Temperature, Humidity, Airflow speed, air replacements and UVa, as in our multi-function 
Cyclone range
.
Quality and reliability is built in through the use of high quality, readily available components, ensuring long term maintainability.
Proven capability providing custom solutions including:

ATEX rated
Safe Handling of Products
Highly Controlled Environments
Integration with Legacy Test Systems

Easy to use interface.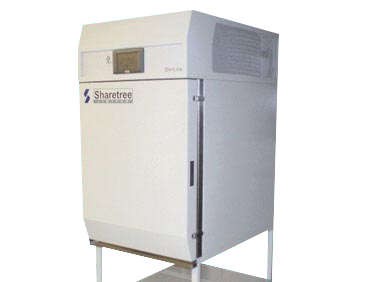 Excellent performance
Small footprint
Slimline range – designed for lower loads and general-purpose testing, simple to use and very reliable.
Desktop to 600ltr floor standing, with temperature ranges of +180°C to -70°C (+250°C to -100°C for LN2 versions), good humidity control from 10-100%RH and a host of options.
Prices from £11,700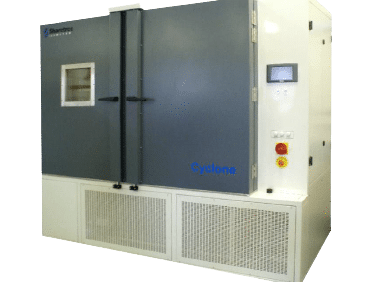 High horizontal, laminar airflow for good thermal tracking
Cyclone range features powerful test chambers suited to more demanding applications.
From 300 to 1,500ltrs, capable of ramp rates from 2°C/min to 15°C/min under load and up to 60°C/min with LN2 cooling on the StressMaster2 ESS versions, which are ideal for HALT, HASS, etc.
Prices from £22,000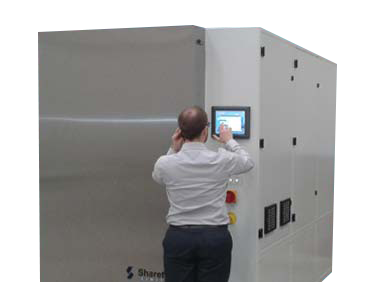 Tornado range – designed for large and/or heavy loads.
Easy to load and performs a wide range of thermal testing including industry specific specification (Auto, Aero, etc).
Standard models have sizes up to 5,250ltrs and loads up to 1T. 
Custom sizes and features available.

Prices from £41,000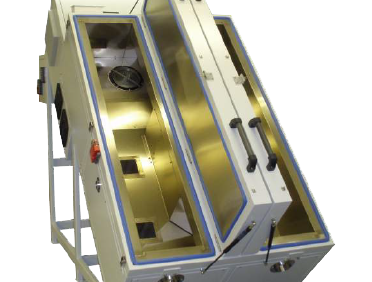 Chambers for long, thin loads
The RampMaster range was originally designed specifically for testing downhole tools, they have long, thin interiors and can be ordered with non-magnetic construction, L-shaped doors for easy loading and high-temperature (+250°C) compressor cooled versions.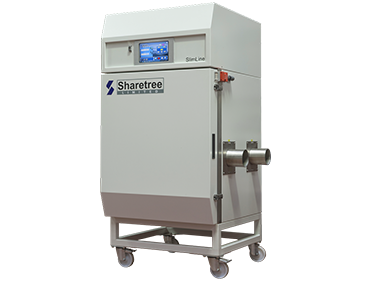 Air-conditioning custom insulated enclosures
Often used in conjunction with custom enclosures, Slimline-ACU and Typhoon ranges offer a flexible way to deliver conditioned air to difficult test environments.
Temperature cycling and temperature humidity versions are available in sizes from small Slimline-ACUs to powerful Typhoons.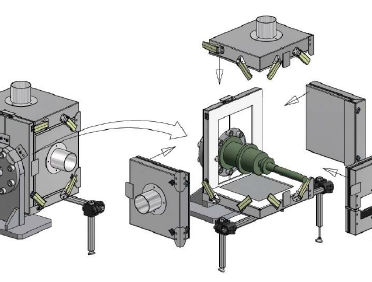 Create insulated enclosures around difficult test setups
For test environments unsuitable for standard 'cubic' chambers.
From single piece enclosures to proprietary, fully modular, clip-together solutions, there's a custom enclosure for nearly any difficult test environment.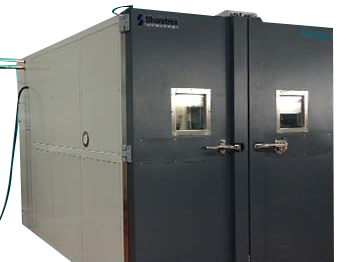 Large walk-in or drive-in chambers
The WIR/DIR range is available in standard modular and high-temperature, single-piece versions.
Ideal for creating controlled environments for large scale testing of sub-assemblies and complete products (vehicles, etc). Temperature cycling and temp/humidity versions available with a wide range of options. Sizes from 8,000 to 63,000ltrs.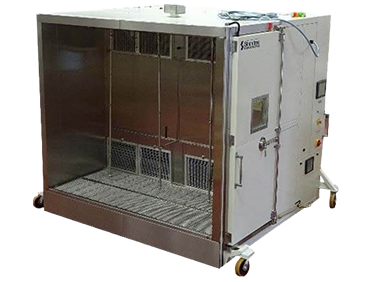 For solutions needing something special
For projects unsuited to standard chambers either because of the product or test requirements.
We have designed and built a wide range of innovative solutions including: humidity drying, rotation and rolling systems, Hygrothermal solutions, high density Burn-In, non-magnetic, modular chambers, and many more.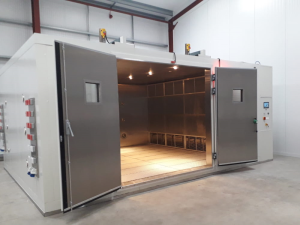 Capable of meeting the demanding requirements such as EN14511
Laminar airflow
Airspeed controllable down to <0.5m/s over the product
Highly stable temp and humidity control under load
Responsive to defrost cycles, etc to recover condition quickly
Integration with measurement/test systems