Test Chambers for Heat Pumps
As countries look to integrate renewable sources of energy into their national electricity grids, heat pumps continue to gain acceptance in many regions as a viable means of controlling indoor temperatures.
Testing of these systems, though complex, is essential to accurately measure a product's coefficient of performance (COP) and help purchasers make an informed choice. These tests rely on a tightly controlled and stable environment in which the heat pump can operate.
SIMPLEtouch
Touch Screen Programmer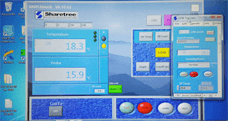 Easy set-up and monitoring of chamber conditions, simplifies programming of complex cycles… read more
Sharetree's range of walk-in chambers can provide the test environment required by a whole range of standards for air-source heat pumps, such as EN 14511 and EN 16147:
The chamber delivers a gentle, laminar air flow with accurate and precise control of temperature and relative humidity.
The heat pump takes in this air and extracts its thermal energy.
This energy is transferred to a water or space heating system and the results are measured to calculate the COP.
Possible testing configurations include: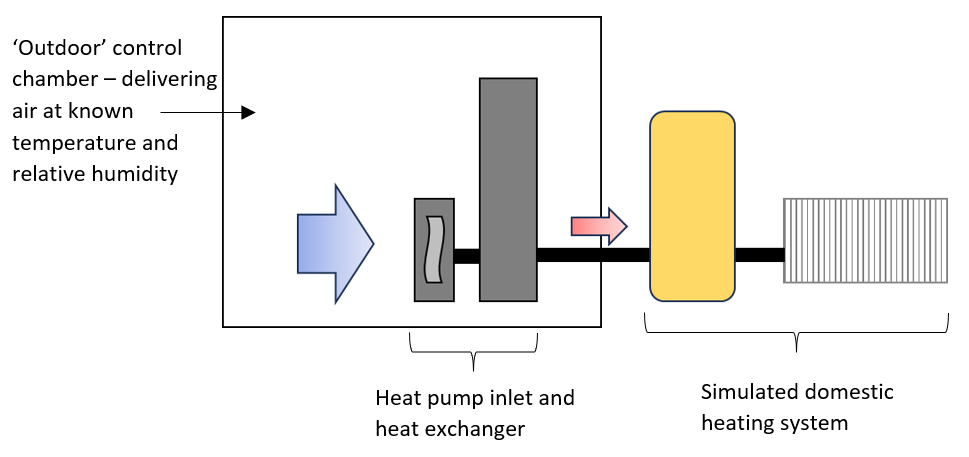 Single chambers for testing air-to-water heat pumps (for domestic hot water and central heating systems)
Split chambers for testing air-to-air heat pumps (used in smaller properties such as apartments)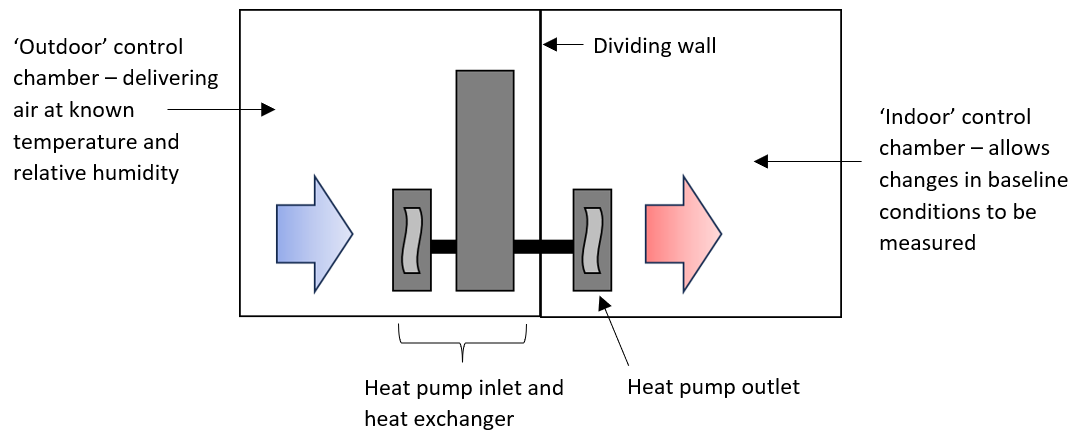 Benefit

Achieved by

High performance

Laminar air flow (adjustable down to <1.5 m/s) from left to right across the chamber – maintains uniform and stable conditions throughout the internal space

Combination of dried air and demineralised water spray used to control relative humidity at a range of temperatures to simulate different weather conditions (e.g.

PT100 sensors for stable and reliable temperature measurement

Capacitive humidity sensor gives optimum combination of accuracy, rapid response and reliability

Chambers built from high quality components ensuring long service lifetimes

Test conditions rapidly established following system start; fast recovery from defrosting cycles (usually within 10 minutes)

Customisable

Wide range of volumes and dimensions available, with high ceilings to avoid heat pump recycling its exhaust air

Designed following site visit to maximise use of space in your facilities

Environmental control systems can be tailored to meet minimum temperature, cooling rates and relative humidity requirements

Extensive range of port and panel options available for interfacing with systems under test (for passing liquids, power cables, data communications, etc.)

Labview-based user interface developed by Sharetree, subscription-free and easily customised

Safe to use

Essential safety features included as standard: • emergency pull cords • internal door release • slip-resistant flooring

Option for ATEX-rated internal volumes for testing systems that contain propane-based refrigerants

Detection system for multiple gases (including oxygen depletion) and infrared fire detection

Easy to use and maintain

Factory-calibrated and expertly installed for you by Sharetree

Uses readily available components for long-term maintainability

PC-based touchscreen control panel – connects to industry standard PID controller that is readily maintained or replaced, minimising downtime
Key Specifications (typical values)

Temperature fluctuation

± 0.5

°C

Temperature range (unloaded)

-40 to +60

°C

Temperature range with load (optimised to meet specification)

-22 to +50

°C

Ramp rate to -22°C with load

0.5

°C/min

Maximum cooling load

20

kW

Maximum mass of load (distributed)

1500

kg

Parameters above are for standard models; for information on customised system performance, please contact Sharetree.